WIFI CONTROLLED RADIATORS


Smart consumption: perfect temperature control anytime, anywhere.
Many times, we do not return home at the time programmed: working days that extend, weekends away that shorten or extend unexpectedly, our arrival to our second home in the country or beach resort… To be able to control from any place the start-up time of our radiators, to obtain the maximum comfort on our arrival, or to be able to delay it to avoid unnecessary electricity expenses, is definitely the great advantage that our Wi-Fi controlled radiators provide: a total control… as well as distance. All this in 3 easy steps with our app.
Total control of consumption = greater savings. In 3 easy steps.

With a single HJM smartbox connected to your home router, you can control up to 30 HJM emitters (even distributed in different floors).
With all the characteristics of our radiators:

open window detector, adaptive control, consumption indicator, keyboard lock…
and also with new Wi-Fi features so you can program and control your radiators anytime, anywhere.

Characteristics: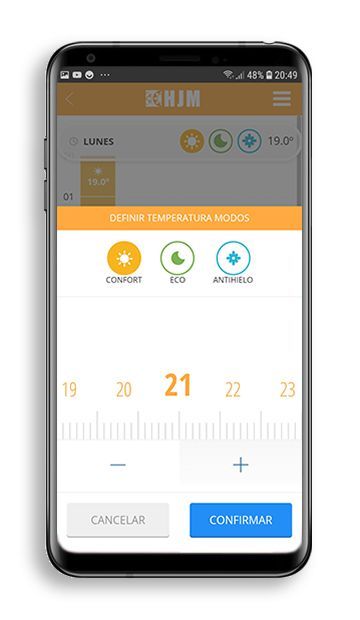 Complete and intuitive menu
From any device connected to the Internet you can:
Control the state of the radiators, the ambient temperature.
To program the desired temperature and the duration of the different modes: comfort, saving, echo, antifreeze, off.
Add, remove or prioritize radiators.
Invite another user: ideal for student residences, rental apartments, holiday apartments… The owner can add and delete guests.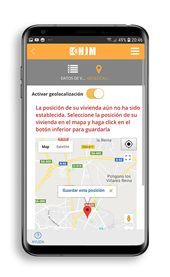 Geolocation by GPS

It detects the presence of the user by means of the GPS position of his/her smartphone, and acts automatically increasing or decreasing the temperature of the radiator, in case he/she is AT HOME/ ABSENT. The increase/decrease of the desired temperature can be defined by the user, who can also disable it permanently or temporarily.
Compatible with AMAZON ECO and GOOGLE HOME

Smart systems that work through a device that has microphones to listen to voice commands from any direction. Conceived to help in everyday tasks, it can, among many other functions, control the radiators with simple voice commands.
If in addition to the smartbox, you purchase our consumption meter, you will have:
Power and temperature statistics menu

If you have our consumption measurer installed in your meter, the app will allow you to consult at any time the power consumed and temperatures as it has complete reports on these variables.
Consumption Limiter

All houses have a maximum contracted power. To stay within limits, the system has a built-in electricity monitor/limiter. In order for this system to be operational, a meter/rationaliser must be purchased, which will also serve to know the electricity consumption of the entire home.
Wifi controlled radiators